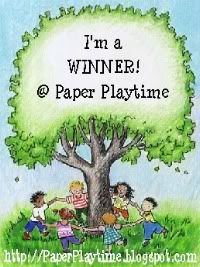 Hey guys, turns out that my air balloon card was a hit! I made the Top Three over at Cricut 360 Challenge Blog and it was also a winner at the Paper Playtime Challenge Blog
. I'm feeling pretty good today. I have a new badge to add to my Award Wall. Thanks to everyone who stops by and leaves such encouraging words and comments. I really appreciate it!!
ETA: It just gets better - This was a Top 5 card over at My Craft Spot as well and the winner at the Fantabulous Cricut Challenge Blog!