The card that I entered to the Cricut 360 blog challenge was selected as one of the top 3! So while I didn't win the challenge, I came very close and I am stoked! It was my second challenge ever. Not to shabby if I do say so myself.
Here is my button! I am so thrilled to be able to display it!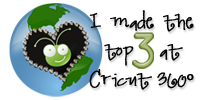 Thanks to everyone who took the time to comment on my card. It was absolutely a labor of love!